Denne artikkelen er meir enn eitt år gammal og kan innehalde utdatert informasjon.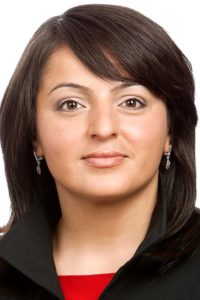 Sevim Dağdelen (Die Linke) har saman med 16 andre politikarar i den tyske Forbundsdagen nominert Julian Assange til Nobels fredspris 2020.
Dağdelen argumenterer med at nominasjonen vil gjere meir enn å ære deira individuelle handlingar:
– Prisen vil anerkjenne det han [Assange, red. anm.], Chelsea Manning og Edward Snowden ofra for å sikre fred og fridom for alle.
Ho skriv at avsløringane av amerikanske krigsforbrytelsar i Afghanistan og Irak, samt det globale overvakingsprogrammet som amerikansk etterretning står bak, har blottlagt arkitekturen for krig, og styrka arkitekturen for fred.
Les også: Arrestasjonen av Julian Assange er ein hevnaksjon frå USAs regjering
– Desse modige personane skal ikkje verta kriminaliserte, men bli anerkjent og prisløna. Krigsforbrytarane og deira handlangarar må stillast til ansvar, skriv Dağdelen i nominasjonen.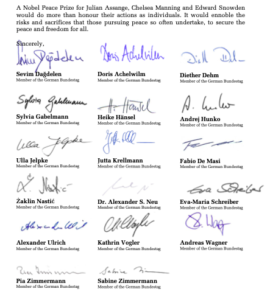 Journalist- og medieprisar som er tildelt Julian Assange:
The Economist New Media Award (2008)
The Amnesty New Media Award (2009)
TIME Magazine Person of the Year, People's Choice (highest global vote) (2010)
The Sam Adams Award for Integrity (2010)
The National Union of Journalists Journalist of the Year (Hrafnsson) (2011)
The Sydney Peace Foundation Gold Medal (2011)
The Martha Gellhorn Prize for Journalism (2011)
The Blanquerna Award for Best Communicator (2011)
The Walkley Award for Most Outstanding Contribution to Journalism (2011)
The Voltaire Award for Free Speech (2011)
The International Piero Passetti Journalism Prize of the National Union of Italian Journalists (2011)
The Jose Couso Press Freedom Award (2011)
The Privacy International Hero of Privacy (2012)
The Global Exchange Human Rights People's Choice Award (2013)
The Yoko Ono Lennon Courage Award for the Arts (2013)
The Brazillian Press Association Human Rights Award (2013)
The Kazakstan Union of Journalists Top Prize (2014)
The Willy Brandt Award for Political Courage (Harrison) (2015)
The Galizia Prize for Journalists, Whistleblower and Defenders of the Right to Information (2019)
The Danny Schechter Global Vision Award for Journalism & Activism (2019)
The Compassion in Care's Gavin MacFadyen Award for Whistleblowers (2019)
---
Del artiklane våre med venene dine på sosiale medier.
---
Del artiklane våre med venene dine på sosiale medier.
---
Del artiklane våre med venene dine på sosiale medier.
---
Del artiklane våre med venene dine på sosiale medier.